Product Description
Details
- Dorothea, that's my name ...
... Look at me when I talk to you. Okay. Look at me carefully and remember every detail of my perfect body. In a moment I am going to tie your eyes and you can just use your imagination to admire me.
Are you afraid? You should. Soon the pleasant moments of conversation will be a memory you are going to miss ...
… very much…
... And now close your eyes!
Long dress with front attracted attention from deep black material which shows sexy underlined contours of the body parts. The front apparently may seem classic, but just look at her back, to know that was developed about the naughty and thrill games. He discovers the entire length of the back, buttocks and legs, revealing their provocative beauty. Appearance and shape of the buttocks further enhance the sleek lines of black thong. The cut of the dress and the use of flexible materials make it adheres perfectly to the body emphasizing its whole shape and every detail. Around the neck there is adjustable clasp silver made of chain. Impressive appearance of Dorothea strengthen dresses, the metal buckles in silver, and the wheels with strings and fasten dress. The whole set Dorothea was prepared with the same materials and the same style, creating the perfect proposal next to which cannot be ignored. An additional advantage of the Dorothea set is the fact that it was made with great attention to quality and performance using visually appealing and pleasant to the touch materials.
Characteristics:
Flexible and resilient materials with elastane - a perfect fit to the body
Pleasant to the touch material - comfort
Close - fitting contoured body shape - good look and comfort
High - quality materials - the convenience and durability
Metallic accessories in the color silver - durability and impressive detail
The clasp at the neck with a chain - the convenience and effective appearance
Reinforcing stitching in critical areas - durable
Set include: Dress Thong
Colour: Black
Available sizes: S/M, L/XL
The composition of the dress: 95% polyester, 5% elastane
Additional Information
Additional Information
| | |
| --- | --- |
| Heel Height | No |
| Material: | 95% polyester, 5% elastane |
Reviews
Free Discreet Delivery
Free Discreet Delivery
All our items are packed professionally and shipped discreetly in gray postal boxes or bubble envelopes, which protects the goods from damaging.
UK Standard Delivery: 3-5 working days FREE on all orders.
UK First Class Delivery: 1-3 working days - £3.99 (Free on orders over £50.00)
UK Express Delivery: Order by 1pm for next day delivery – £8.99

(Free on orders over £100.00)

European Delivery: 7 working days - £11.99 (

Free on orders over £150.00

)
Worldwide Delivery: 10 working days - £19.99 (

Free on orders over £150.00)
Please click here for further details
Size Chart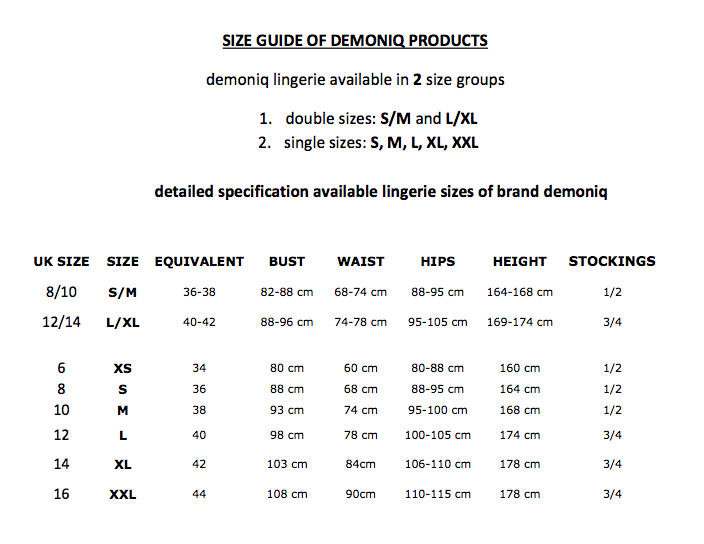 You may also be interested in the following product(s)